At Alden Miller Interiors, we like to use original pieces in our projects whenever possible. We have worked collaboratively with designer and fabricator Max Austerweil on several projects and love the aesthetic he brings to the work. He creates shelving, lighting, mirrors and other amazing pieces.
Get to know Max and learn about how he creates his one-of-a-kind work.
Alden @ Alden Miller Interiors: "Tell us about what you do. How would you describe it?"
Max: That is the question I have always struggled to answer simply. What I tell people is that I work in Interior Design doing design and fabrication, specializing in lighting, shelving, and mirrors. But truly what I do is find solutions for design challenges. Facilitating original and collaborative aesthetics, engineering, fabrication, and installation of a wide array of home decor.
Alden: "How has your career lead you to what you do? Did you study for it, fall into it?"
Max: I completely fell into the role that I have today. I have always had an interest in manufacturing; the process to which things are made and the equipment used to do so. I took night classes at the Junior College to learn machining, simply as an interest, with no plan to make a career out of it. At the same time, I was working in a home store on Piedmont Avenue in Oakland. Out of necessity for the shop's needs, I started making brass and acrylic display shelving, and some lights for the store shopfront. This lead to customers and interior design clients wanting my designs for their own projects. Five years later, I am producing pieces beyond anything I could have imagined.
Alden: "What are your favorite types of projects?""
Max: I love a good challenge. I appreciate being presented with something I have never done before because it pushes me to learn and expand my skills.
Alden: "What materials do you work with to make your creations?"
Max: I work with all materials, mainly steel and brass. But I also work with wood and currently am in the process of building up my woodworking equipment to produce more wood pieces.
Alden: "What are the biggest challenges in what you do?"
Max: Paint and finish is by far the most challenging. This last 10% makes or breaks an entire piece. The challenge lies in the lack of information out there to achieve certain metal finishes. Most manufactures hold these finishes as trade secrets and employ master finishing experts with years of experience. This is a skill I am constantly refining and continually adding new finishes to my repertoire.
Alden: "Tell us something about the bathroom mirrors you created for our Woodside residential project."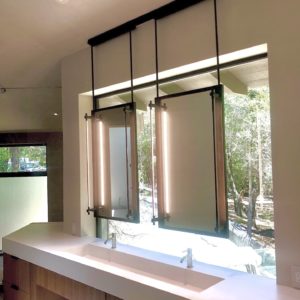 Max: I can safely say we created something completely original and I am very proud of that. We were able to take what was a challenging space to mount a mirror and accentuate it to a statement. Such a refined design, with inspiration pulled form the Juniper Thin Lights we integrated and what's left is a beautiful fully functional fixture that the clients will use every day.
Alden: "How do you work with your clients: is it collaborative or do they give you guidelines and you go off and create?"
Max: All of the above! Sometimes clients come to me with a photo of a blank wall asking me to come up with something. But most inquiries involve an inspiration photo and dimensions. With that I create a first version of a design and revise until correct.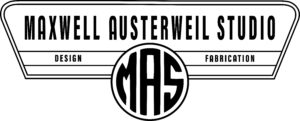 See more of Max's work on Instagram: @maxwellausterweil