Alden Speaks with Jenny Rios about her Project Planning Service
Alden spoke with Jenny Rios of Jenny Rios Home about her service for homeowners looking for help planning their renovations. The JRH Professional Project Planning Service commits to meet clients where they are in their project; they can come in at the start and establish a plan upfront or they can come in at any stage to ensure a successful outcome. Jenny says it's never too late to engage with professional planning assistance for a home renovation.
BUDGET
Alden and Jenny both know that working within a budget is a critical part of a planning or design project, but it is also where many projects go off the rails. Jenny told us about a client who invested in design services before having a sense of the general costs of her project. Not only could the client not afford the project design, she had a lot less to do any renovation work. Designers and architects can't always have a full understanding of the entire project costs and it can put homeowners in a tight spot. Jenny's service sets the client and their design team up for success.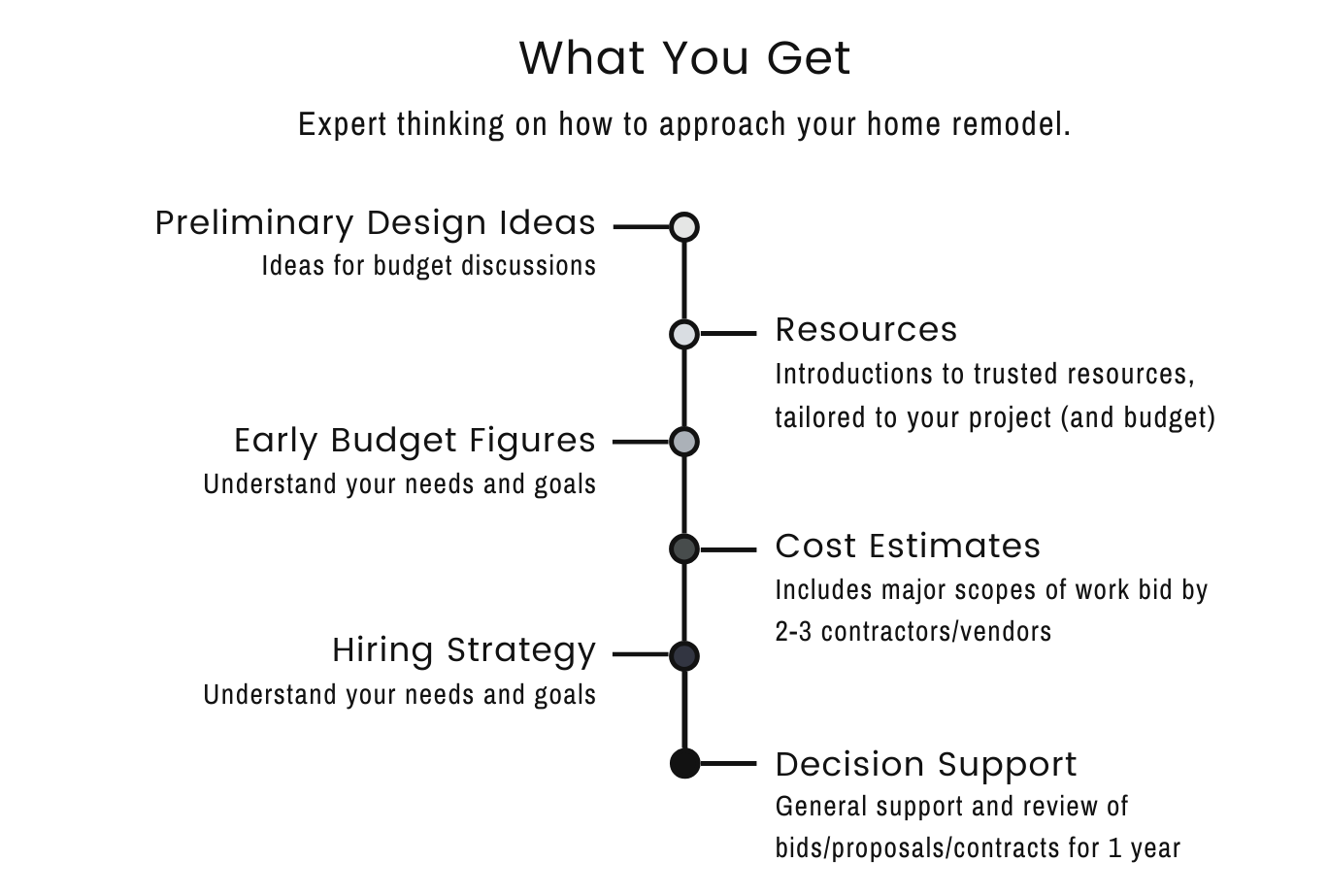 Jenny and Alden agree that it is hard for designers and architects to manage the global costs outside of their area of work. And sometimes designs can develop without budget in check. With Jenny's project planning service, the design team brings the client vision to fruition, while also being grounded in the budget. As a designer, Alden knows Jenny's project planning service provides a critical step in the overall construction process because it gives the homeowner a realistic sense of how much things cost and offers a schedule or phased approach to the work.
SCHEDULE
With a background in public contracting, Jenny knows the best way to get a project done is to create a master plan that includes a phased approach to long-term tasks and projects. She tells Alden she brings this approach to home renovation and believes that since many clients cannot afford to do everything at once, phasing is critical.
In Alden's own home remodel, she discussed bringing this phased approach to renovation. First completing the exterior shell of her home, she moves onto interior rooms as funds and time are available. Alden says you can't do a kitchen remodel in the house you don't yet have. Jenny says people have to be patient. Project planning is for people who are going to be in their home for at least 5-10 years and who are slowly investing in their home. Hiring a project planning professional such as JR Home to create a project plan sequences the construction steps and identifies associated costs.
SEQUENCE
In her service, Jenny starts by meeting with the clients to look at everything they want to do and determines the total cost. She then puts those projects into a logical sequence and phases them out.
Alden asks if planning is just about taking all the wants and pacing out the projects, and Jenny says, yes, but this is also where honest conversations about priorities come in. If a client wants to do 20 things, JR Home will factor in the budget and sequence. And, at that point, Jenny says clients may have to recalibrate; things may come off the list or move in priority. She believes that if clients don't know how to think about a project, expensive mistakes can happen.
Once the sequence is in place, clients can tackle a project while planning the next. Jenny says as she is actively doing a project, she is always planning the next project. And, like Alden, Jenny phases projects in her own home and brings this same process to clients.
DESIGN
Alden wanted to know if this service ever steps on the toes of architects or designers. Jenny believes that while architects are focused on giving the best design and are looking at the whole house picture, they do not always have current information to focus on the bottom line. Therefore, Jenny's attention is less about design, and more about the owner. She peels back the layers of design and construction to figure out what is important to do first.
As a designer, Alden values furnishings and fixtures and wants to give her clients the best design for their home. She wants them to have what they want and, while she is uniquely very mindful of budget, the ultimate decision lies with the owner. Jenny always has the owner and budget in mind, and keeps the owner honest with themselves.
"Wherever you are stuck, I am going to get you unstuck." Jenny Rios 
Alden says Jenny's value is giving clients the real truth. In projects where they have worked together, Alden sees how much clients trust Jenny. From the designer's perspective, Jenny can facilitate an honest conversation with the client about cost and priority. When a designer believes a particular material is the perfect solution, Jenny advises the client how adjustments in other areas down the line make that selection within budget. She is honest about the trade-offs clients must make. In the end, she is helping her clients make informed decisions.
PROCESS
Another benefit to hiring a project planning professional is the connections they make. Jenny's service includes a hiring strategy that connects clients with the best team for their project. Jenny may find a local contractor to help build a deck or just the right electrician in the area. There is no referral fee; Jenny just wants homeowners to find the right person for their project. She said she'll wait for availability to get the right person.
Jenny and Alden discussed how well-intentioned clients do not always know where to start the overall process or who to call. They may hire a designer like Alden at the beginning of the process when they really aren't ready to begin design. In fact, recently Alden had clients contact her in the beginning phases of their renovation. It was clear they were not ready for design work, and she directed them to Jenny to plan the project. Alden will return to the project when design work ramps up.
There are so many unknowns in the home renovation process. Having a project planning professional who has your back and a designer who wants the best design for your budget is invaluable.