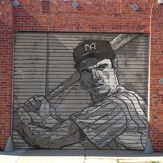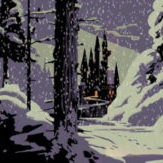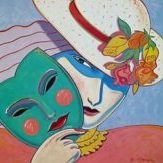 We are eternally grateful to artist John Kleber for the one-of-a-kind mural he created for our Ronald McDonald House Guest Room 307. Based off of a concept we found online, the mountainscape mural was actually one of the starting points for our guest bedroom concept. Eager to create a beautiful custom piece of art for our soothing space, we reached out to muralists on thumbtack.com with the project, and John answered our call.
An artist with a career at Warner Brothers and Walt Disney under his belt, John was the perfect person to make our vision a reality. When he isn't creating murals, John owns his own studio, ARTU4iA, where he and his wife work with beginners looking to explore their creative sides in a relaxed, open painting studio setting.
With his unwavering dedication and enthusiasm, John is a truly great artist and individual. His artistry and time were an amazing gift to this project and to the children and families receiving care. John added trees in the foreground of the mountainscape concept to give the work depth and contrast, while maintaining the calmness we found essential. The final product is a true work of art, and far exceeds anything we could have expected.
The calming landscape in its soft, muted palette is one of the features that really makes our room stand out. The mural adds depth to the bedroom and has a distinct warm glow reminiscent of hope on the horizon. We hope that this organic design will create a comforting space for families to feel cared for during their time of need.
In addition to the mural, John also assisted with the development of a unique herringbone stenciled treatment for the laundry room. Alden Miller Interiors is so grateful for John and all of his hard work and we love seeing the space finally come together! We really couldn't have done it without him.