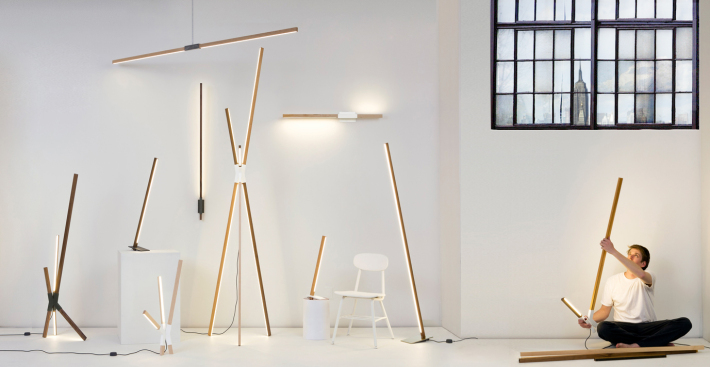 This company is rad. When we discovered Stickbulb we were immediately drawn to their sleek, semi-industrial design. Originating from RUX, a design company out of New York, Stickbulb was inspired by a pile of long wooden cutoffs that were lying around their workroom. An effortlessly cool concept that resulted in a streamlined and delightfully simple design, it was perfect for our project in Palo Alto (stay tuned!). We ordered samples to confirm the finishes, only to be totally blown away by what we received.
Not only were the samples beautiful, but we learned that all their materials are sustainably sourced. The wood finishes were all neatly labeled with a short description of where they came from, one of which being reclaimed wood from buildings in New York—very cool! We realized then that this company is much more than just fancy lighting. There is humanity behind their product that believes in simple, quality materials and thoughtful design. A mental light bulb went on and we knew they would be a perfect fit for our Ronald McDonald House project.
After a quick email conversation with one of their sales reps (shout out to Beau, you rock!), Stickbulb is now on board with the RMH project and we couldn't be happier. They have generously donated one of their awesome wall sconces that is going to make Guest Bath 307 fantastic. Quality products like this that show the spirit and craft of the people behind them are something that is essential for this project—and any project for that matter. Thank you Stickbulb for bringing such soul to the table, and participating in this beautiful cause.
To contribute to our portion of the Ronald McDonald House project at Stanford go to Alden Miller Interiors' Donation page.