Woodside Laundry Room Tile Design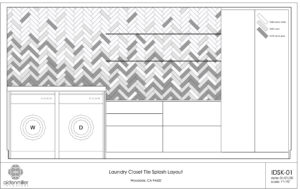 Every room in every home takes planning, even the laundry room. No longer afterthoughts, laundry rooms have become highly designed and may comprise storage space, mud rooms, or dog washes. More and more however, they are not only planned spaces but also included aesthetic design elements, just like any room in the home. We offer a sneak peek from a new Woodside project, in conjunction with Ana Williamson Architect, where our tile design added a pop of color and hint of fun to this room intended for work.
We came to this laundry room when many elements had already been selected. Henry Built cabinets in soft gray laminate and cloud color oak were underway and countertop colors had been chosen. Our tile design had to fit into this structure and subdued color palette. However, the client sought inspiration from two previous projects Alden Miller Interiors had done previously that offered splashes of color and pattern. A stenciled colorful backsplash we designed for a laundry room at RMH at Stanford, was a favorite. As part of a larger project, we wanted this space to be a happy, fun space to wash, fold, and iron cloths. The concept was a multicolored pattern in a irregular herringbone layout. While the color palette was completely different, we used this same approach as our concept for this project.
Taking the existing elements in the room, like cabinets and color palette, and our previous tile work, we created concept layouts using Heath Ceramics clay tiles in neutral greys for the Woodside laundry room. We designed three separate tile layouts that worked for the wall behind the washer and dryer. Suggested patterns were plays on the herringbone pattern, each with creative irregularities in the tiles.
The clients chose a unique tile arrangement of stone white, storm, and cloud grey colored tiles. Darker tiles populate the bottom half of the wall, with tiles becoming lighter as the pattern moves toward the ceiling. To add dimension, darker colors are also peppered toward the top. The result is an unexpected arrangement of colors in a traditional design.
This project shows what a little planning and creativity can do for a utilitarian room. We loved designing this laundry room tile and cannot wait to show the finished product this spring.
If you have an existing room that needs a re-design, consider the addition of tile in interesting pattern to wake up a dull space.